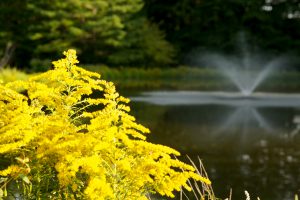 What constitutes a day in terms of rates charged?
if you drop your dog off in the evening, we won't charge for that day. If you pick your dog up in the late afternoon or evening, you will be charged for that day. If a dog spends the night and is picked up before noon the next day you will be charged for one day.
How far in advance should I call to reserve a kennel space?
We suggest you call as soon as you make plans for a trip as we have limited space and get booked well in advance. We are always full over any of the holidays.
What is your cancellation policy?
We realize that emergencies come up. All we ask is that you call us as soon as possible and let us know. We often have people on a waiting list to get in.
What do I need to bring?
You need a current vaccination record for rabies, parvo, and DHLP or DHPP. Kennel cough (Bordatella) is also required. You will need to provide us with heartworm and any other medications that the dog will need during its stay.
Feel free to bring dog beds and favorite toys. We realize that being in a kennel environment can be stressful to pets and that is why we provide so much hands-on care and freedom to our client dogs.
We feed Bil Jac premium dog food but if your dog is fed something else we suggest you bring that as to not upset his stomach with a food change. If you do bring your own food, please label the container clearly with the dog's name and feeding instructions. We provide dog biscuits and love free of charge!
Can I keep in touch while I'm away?
Of course you can. We encourage you to call or text ( 216-244-2483) whenever you feel the need to. However, we also want you to know that you can be confident to take vacations, go on a business trip, or take hospital leave knowing your pet is receiving the very best care.
What happens if my dog becomes ill?
In any emergency, we will call you and/or your emergency contact immediately to inform you of any symptoms, problems or injuries. That's why we ask you to provide us with contact information such as a cell phone and a backup contact in the event you can't be reached. Depending on the symptoms or problems we will get veterinary assistance. All boarding clients will be responsible for any veterinary treatment, medication and/or services.
What payment method do you prefer?
We take personal checks and prefer cash.
Do you take special-needs pets?
Depending on what is required, we can accommodate special-needs pets. Please call us to discuss your particular pet. We routinely accept special needs such as mild to moderate aggressive dogs, dogs that require medication, handicapped dogs, hyperactive dogs and fence jumpers. Please note that any aggressive dogs will not be able to participate in pack activities. They will be let out on their own.